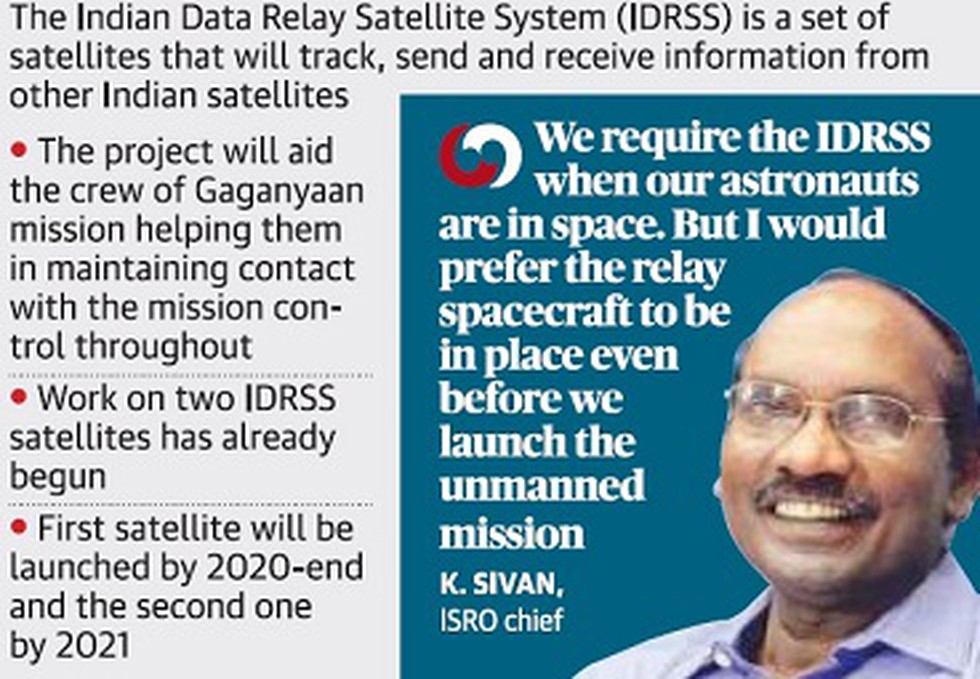 In Context :
India plans to ring in its own era of space-to-space tracking and communication of its space assets in 2020 by putting up a innovative satellite series called the IDRSS (Indian Data Relay Satellite System).
In News :
Work on the 2 IDRSS satellites planned initially has begun.
The first of them are going to be sent towards the end of 2020. It will precede the pre-Gaganyaan experimental unmanned space flight which is ready to own a humanoid dummy.
A second one will follow in 2021.
The two will offer near total tracking, sending and receiving of data from the crew 24/7.
About :
The IDRSS is planned to track and be constantly up-to-date with Indian satellites, particularly those in low-earth orbits which have limited coverage of earth.
In the coming years, it'll be vital to Indian Space Research Organisation (ISRO), whose roadmap is dotted with the advanced LEO missions like space platform , space docking, also as distant expeditions to moon, Mars and Venus. It will also be useful in monitoring launches.
The first beneficiary would be the possible crew members of the Gaganyaan mission of 2022 who is fully and continuously up-to-date with mission control throughout their travel.
Source : The Hindu